AFTER seeing six patients on his first workday in Shenzhen, Dr. Sudipta Das said the language barrier wasn't a problem. A Chinese doctor was translating for Das, an Indian optometrist, who arrived in Shenzhen about two week ago.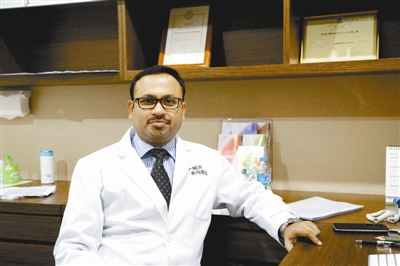 "I was told to see Dr. Das and I know I was among the first few patients to see him in Shenzhen," said Henry Peng, from Hong Kong. "He was very patient and willing to hear my stories. I went to different hospitals in Shenzhen. Some were too busy to listen to me."
  Das is visiting China for the first time. He is a prominent doctor from the Sankara Nethralaya hospital in India. Das specializes in vitreoretinal surgery, or surgery on the clear gel inside of an eye.
  Das is working at the C-MER (Shenzhen) Dennis Lam Eye Hospital, a hospital in Shenzhen that is solely funded by a Hong Kong organization. Das is part of an exchange program.
  After seeing children in China using smartphones and tablets, Das expressed concern.
  "Kids are having problems worldwide but myopia is more prevalent here," he said. "So kids require regular screening and if they are prescribed glasses then they have to be worn regularly as per ophthalmologist's advice."
  Das advises against young children using computers for long hours.
  "Parents need to remind them to take breaks while using computers," said Das. "Adults need to take regular breaks too."
  Das was trained under renowned Prof. Pramod S. Bhende and Prof. Tarun Sharma for complicated retinal and macular surgeries at Sankara Nethralaya. Das said he spent his free time helping the poor in India.
  In 2008, Das won an award called "Mission for Vision," recognizing the high number of cataract surgeries he performed in a single year. Das has attended several public awareness walks and eye screening events throughout India. He hopes Shenzhen residents will take more interest in eye donation.
  He also said Shenzhen patients with diabetes, hypertension and myopia should have their eyes checked every six months. "Preventable and treatable blindness due to cataract, glaucoma and age-related macular degeneration can be reduced by routine screening."