Indian couple brings care and compassion to local medical community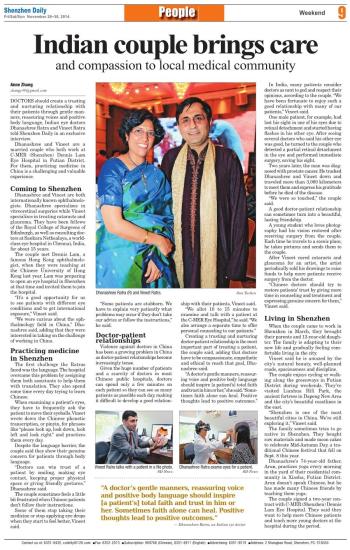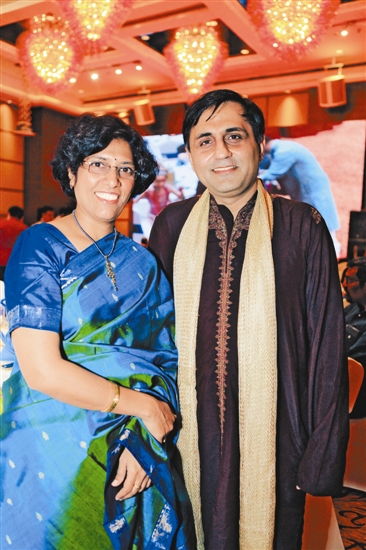 Dhanashree Ratra (R) and Vineet Ratra.Sun Yuchen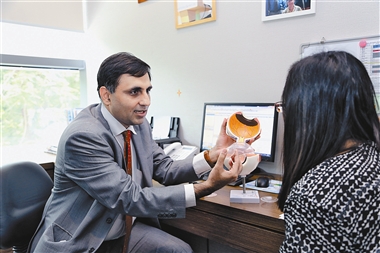 Vineet Ratra talks with a patient in a file photo. SD-News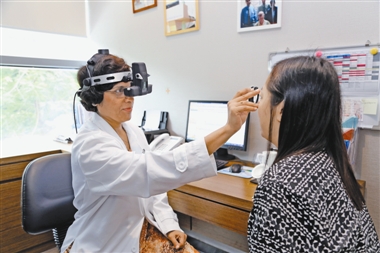 Dhanashree Ratra exams eyes for a patient. SD-News
  DOCTORS should create a trusting and nurturing relationship with their patients through gentle manners, reassuring voices and positive body language, Indian eye doctors Dhanashree Ratra and Vineet Ratra told Shenzhen Daily in an exclusive interview.
  Dhanashree and Vineet are a married couple who both work at C-MER (Shenzhen) Dennis Lam Eye Hospital in Futian District. For them, practicing medicine in China is a challenging and valuable experience.
  Coming to Shenzhen
  Dhanashree and Vineet are both internationally known ophthalmologists. Dhanashree specializes in vitreoretinal surgeries while Vineet specializes in treating cataracts and glaucoma. They have been fellows of the Royal College of Surgeons of Edinburgh, as well as consulting doctors at Sankara Nethealaya, a world-class eye hospital in Chennai, India, for about 15 years.
  The couple met Dennis Lam, a famous Hong Kong ophthalmologist, when they were teaching at the Chinese University of Hong Kong last year. Lam was preparing to open an eye hospital in Shenzhen at that time and invited them to join the hospital.
  "It's a good opportunity for us to see patients with different eye conditions and to get international exposure," Vineet said.
  "We were curious about the ophthalmology field in China," Dhanashree said, adding that they were interested in taking on the challenge of working in China.
  Practicing medicine in Shenzhen
  The first challenge the Ratras faced was the language. The hospital overcame this problem by assigning them both assistants to help them with translation. They also spend some time every day trying to learn Chinese.
  When examining a patient's eyes, they have to frequently ask the patient to move their eyeballs. Vineet wrote down the Chinese phonetic transcription, or pinyin, for phrases like "please look up, look down, look left and look right" and practices them every day.
  Despite the language barrier, the couple said they show their genuine concern for patients through body language.
  "Doctors can win trust of a patient by smiling, making eye contact, keeping proper physical space or giving friendly gestures," Dhanashree said.
  The couple sometimes feels a little bit frustrated when Chinese patients don't follow their instructions.
  Some of them stop taking their medicine or stop applying eye drops when they start to feel better, Vineet said.
  "Some patients are stubborn. We have to explain very patiently what problems may occur if they don't take our advice or follow the instructions," he said.
  Doctor-patient
  relationships
  Violence against doctors in China has been a growing problem in China as doctor-patient relationships become increasingly tense.
  Given the huge number of patients and a scarcity of doctors in most Chinese public hospitals, doctors can spend only a few minutes on each patient so they can see as many patients as possible each day, making it difficult to develop a good relationship with their patients, Vineet said.
  "We allot 10 to 15 minutes to examine and talk with a patient at the C-MER Eye Hospital," he said. "We also arrange a separate time to offer personal counseling to our patients."
  Creating a trusting and nurturing doctor-patient relationship is the most important part of treating a patient, the couple said, adding that doctors have to be compassionate, empathetic and ethical to reach that goal, Dhanashree said.
  "A doctor's gentle manners, reassuring voice and positive body language should inspire [a patient's] total faith and trust in him or her," she said. "Sometimes faith alone can heal. Positive thoughts lead to positive outcomes."
  In India, many patients consider doctors as next to god and respect their opinions, according to the couple. "We have been fortunate to enjoy such a good relationship with many of our patients," Vineet said.
  One male patient, for example, had lost his sight in one of his eyes due to retinal detachment and started having flashes in his other eye. After seeing several doctors who said his other eye was good, he turned to the couple who detected a partial retinal detachment in the eye and performed immediate surgery, saving his sight.
  Two years later, the man was diagnosed with prostate cancer. He tracked Dhanashree and Vineet down and traveled more than 3,000 kilometers to meet them and express his gratitude before he died of the disease.
  "We were so touched," the couple said.
  A good doctor-patient relationship can sometimes turn into a beautiful, lasting friendship.
  A young student who loves photography had his vision restored after receiving surgery from the couple. Each time he travels to a scenic place, he takes pictures and sends them to the couple.
  After Vineet cured cataracts and glaucoma for an artist, the artist periodically sold his drawings to raise funds to help more patients receive surgery from the doctor.
  "Chinese doctors should try to restore patients' trust by giving more time in counseling and treatment and expressing genuine concern for them," Vineet said.
  Living in Shenzhen
  When the couple came to work in Shenzhen in March, they brought their parents and 12-year-old daughter. The family is adapting to their new life and gradually feeling comfortable living in the city.
  Vineet said he is amazed by the city's natural beauty, well-planned roads, spaciousness and discipline.
  The couple enjoys cycling or walking along the greenways in Futian District during weekends. They've visited Lianhua Hill Park, the ancient fortress in Dapeng New Area and the city's beautiful coastlines in the east.
  "Shenzhen is one of the most beautiful cities in China. We're still exploring it," Vineet said.
  The family sometimes tries to go native in Shenzhen. They bought raw materials and made moon cakes to celebrate Mid-Autumn Day, a traditional Chinese festival that fell on Sept. 8 this year.
  Dhanashree's 74-year-old father, Arun, practices yoga every morning in the yard of their residential community in Xiasha, Futian District. Arun doesn't speak Chinese, but he has made many Chinese friends by teaching them yoga.
  The couple signed a two-year contract with C-MER (Shenzhen) Dennis Lam Eye Hospital. They said they want to help more Chinese patients and teach more young doctors at the hospital during the period.
  "A doctor's gentle manners, reassuring voice and positive body language should inspire [a patient's] total faith and trust in him or her. Sometimes faith alone can heal. Positive thoughts lead to positive outcomes."
  - Dhanashree Ratra, an Indian eye docto